Excellence
If you don't do it first, your competitors will...
Achieving excellence is the result of high performance throughout the entire organization. Every process performed in your organization has an external or internal customer as its end result. If only one process fails to deliver high performance results, a customer will be affected!
While Tom Peters wrote about searching for excellence, and this guide lists resources for achieving high performance, it is up to you and your organization to go out and do it. . . before your competitors beat you to it!
Do More With Less
More and more organizations, both in the public and private sector, are committing to quality practices and focusing on competing against or collaborating with the very best in their field. This search for excellence is driven by several factors:
To win back some of the ground given to fierce competition.
Dwindling staff and resources (do more with less).
Increasing demands from customers who want higher standards of service at a fair price.
A driving desire to be number one!
Excellence Model and Free Resources
Although there are many models of excellence, one of the most comprehensive is the European Foundation for Quality Management.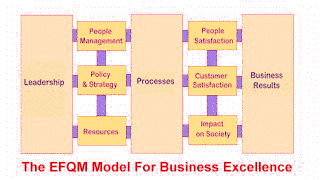 It was founded in 1988 by 14 major European companies, with the endorsement of the European Commission. Membership comprises over 600 companies from most Western European countries and across many business sectors. There are nine criteria of excellence in the model. The first five are classified as enablers, that is, you must perform them first, in order to be on the right track to achieve excellence. The last four are the results of achieving excellence: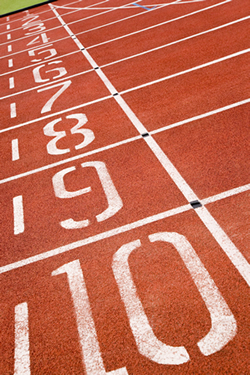 Leadership - Inspire and drive Total Quality as the organization's fundamental process for continuous improvement.
Policy and Strategy - The principles of Total Quality are used to formulate, deploy, review and improve policy and strategy.
People Management - Release the full potential of people to continuously improve business and service.
Resources - are effectively deployed in support of policy and strategy.
Processes - Identify, review, and revise processes to ensure continuous improvement of the organization.
Customer Satisfaction - Satisfying external customers.
People Satisfaction - Satisfy all employees.
Impact on Society - Satisfying the needs and the expectations of the community at large, including the perception of the organization's approach to quality of life and the environment.
Business Results - Achieving planned performance and objectives along with satisfying the needs and expectations of everyone with an interest in the organization.
Checklist For Achieving Excellence Through Performance
Partly based on a 1994 survey by the CBI and DTI of 120 of the UK's most successful companies.
Leadership

_____ We lead by example.
_____ Leaders are champions for change and accept managed risk.
_____ Our management style is open communication throughout the entire organization.
_____ Leaders of all ranks manage "by walking around" (The Front Line = The Bottom Line).
_____ Leaders at all levels set visions based upon the company's goals and visions.
_____ We set and meet goals to achieve our visions.

Policy and Strategy

_____ Our business strategy has demanding and realistic targets.
_____ We have a realistic understanding of our competitors.
_____ We know what drives our market.
_____ We strive to introduce a mix of products and services.
_____ We exploit new technology and research to drive new product innovation.

People Management

_____ Our employees are empowered to focus on customers.
_____ Decision making occurs at the lowest level.
_____ We train, develop, and educate employees at all levels.
_____ Every employee knows what our company performance is.
_____ Diversity is recognized as an important component of the organization.
_____ We offer stock options or rewards based on performance to all employees.
_____ We use a team approach.
_____ Our cross-functional teams drive innovations forward.
_____ We focus on performance goals.
_____ Jobs are designed to promote ownership and responsibility.

Resources

_____ We use a just-in-time (JIT) approach for managing our inventory.
_____ Our obsolete or "not in specification" stock is only a small fraction of our total stock.
_____ We cultivate an active partnership with all our vendors.

Processes

_____ Our processes are simplified and defined.
_____ We continuously deliver improvements in all process.
_____ We have a continuous goal to radically improve speed to market.

Customer Satisfaction

_____ We know and focus on our customers.
_____ We try to anticipate the future needs of our customers.
_____ We cultivate an active partnership with our customers.
_____ Our products and services exceed our customer expectations.
_____ We seek to continuously reduce customer costs.
_____ We customize our products and services.
_____ We have information systems that allow us to obtain customer relevant data.

People Satisfaction

_____ Our vision is owned throughout the entire organization.
_____ We unlock the potential of our people...and our actions, policies, and culture prove it!
_____ Our turnover rate is significantly lower than the national average for similar industries.
_____ We promote from within.
_____ Individuals have the information to measure their own performance and progress.
_____ Mistakes are treated as leaning opportunities.

Impact on Society

_____ We give time, money, and resources to deserving groups.
_____ Our organization is respected locally and nationally.
_____ We are committed to a role of environmental leadership in all facets of our organization.
_____ We listen to and attempt to act upon suggestions made by outside groups.
_____ The community at large wants us to succeed.

Business Results

_____ We benchmark against competitors and other high performance organizations.
_____ We continuously meet or exceed our goals and objectives.
_____ We measure results in terms of Return On Investments (ROI).
_____ Our stockholders are enthusiastic about our stock!